Embodied Goddess Awakening
August 13 @ 9:00 am

-

August 14 @ 6:00 pm

UTC+7

EUR€26.00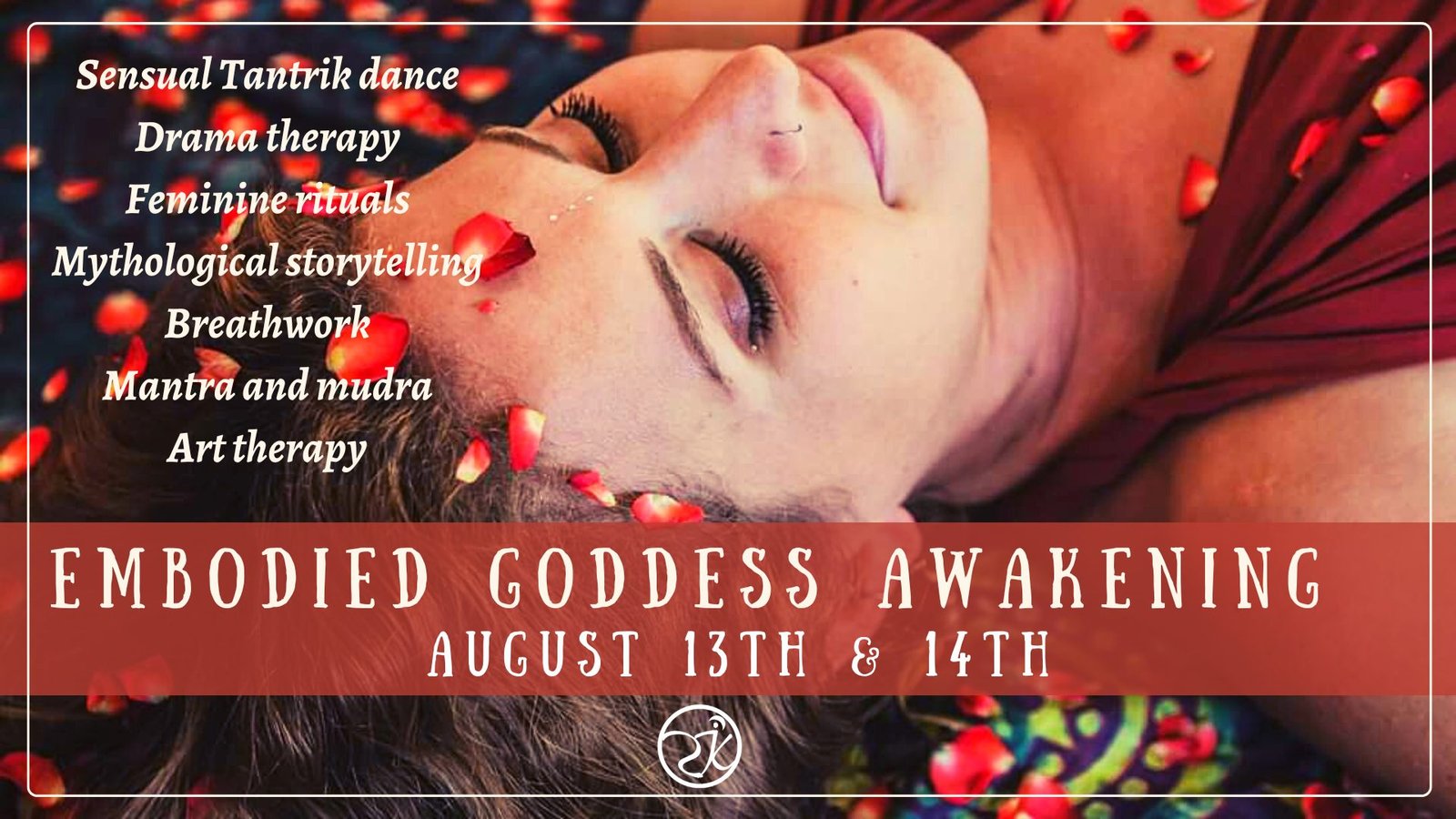 Embodied Goddess Awakening
Sensual Tantrik dance, Drama therapy, Feminine rituals, Mythological storytelling, Breathwork, Mantra and Mudra, Art therapy
Free Demo: August 8th at 12:30 pm
Her awakening is in the sway of her hips,
Her power is her erotic nature,
Her language is the dance of the WILD FEMININE,
Her REDNESS is her beauty medicine,
Yes Lalita's Kundalini awakening, is through her very EMBODIED PLEASURE, and DEEPEST  DESIRES…..
In a world of Patriarchy, we often look at spiritual awakening, in a disembodied way, embracing only half of ourselves, thereby participating in Spiritual Bypassing. 
Women in today's world have been programmed into this primary split, that rejects feminine parts of ourselves in the eagerness of opening our 7th chakra or be positive all the time or have an unconscious obsession with ascension leading to shame in fully embodying our Wild Sensual Self, emotional self…. 
However the Ultimate truth of Shakti Spirituality is that she doesn't AWAKEN by denying her Erotic body full of senses, but she awakens primarily, by bringing her consciousness into her body.
GODDESS LALITA:
"Lalita personifies desire in all its forms – starting with the cosmic desire that impels the formless unborn to explode into forms…" Sally Kempton.
By awakening our inner Goddess Lalita, 
Her Divine form through our
SENSUAL TANTRIK DANCE,
We will learn to awaken in this very moment through the truth of our sensual hips, 
The sweet nectar of the Sacred Desire pulsing through our passionate veins, 
The Divine eternal dance of wild flesh. No judgements, no dogmas, no linear enlightenment future plans, but RIGHT HERE, RIGHT NOW, 
AWAKEN, 
in your wise body….
are you ready my Beloved Shakti?
Women often complain, where are all the Shivs in Tantra gatherings, but if suddenly the Shiv appears, will you be ready to meet him as his EQUAL~ the Embodied Lalita?
Goddess Gaia:
She teaches us through her radical love, that she cannot disown her children,in the excitement of nirvana. She cannot run away from the interconnectedness of every atom from every molecule, from every star, and every river.
Embrace everything, she whispers,
INTIMACY
with every moment,
"Your willingness to stay present, no matter what, is your ticket to the wild ride of Feminine Embodiment practice. No one is asking you to be perfect, to improve or modify yourself. Only your willingness to be here fully is required, and the richness of life itself will become your fiercest teacher."
― Chameli Ardagh
So on our Shakti path spirituality is not the one hour on the meditation cushion alone, or disconnected from the REAl, disappearing in the Himalayas for a retreat alone (though that can be powerful occasionally). 
For Shakti, spirituality is embracing EVERY ASPECT OF LIFE, integrating the depths of her soul, the heights of her spirit through her EMBODIMENT PRACTICES right here on this Earth. 
Shakti  awakens by entering deeper into the messiness of Real life, real love. 
Yes, this is a path of radical commitment to truly work with what is present in the here and now.
Are you ready to become RADICAL LOVE, through your body?
  —————————————————- 
About the facilitator: Sufiana (India, California)
Sufiana is originally from Bombay and has lived in Los Angeles and San Francisco as well. She leads retreats and workshops in India and internationally for Feminine Spirituality focusing on Women's Empowerment, Feminine Embodiment, and Creative Arts Healing.
She holds a Masters degree in Philosophy, has studied Expressive arts therapy in San Francisco, holds a Post-grad Certificate in Women's studies and is a trained Yoga instructor specializing in Pranayama, Meditation, stress management, trauma healing and chanting, also trained in Reiki and Pranic healing.
In her spare time, she loves to study astrology, dance, work with kids, write Sufi poems, act in theater, sing, paint, photography, travel, etc….
Her path, she says is the path of Unconditional Love and of REVIVING and being of service to the DIVINE FEMININE thereby restoring the balance between Divine Masculine and Divine Feminine energies.
  —————————————————- 
CONTRIBUTION
130 Euro (4900 THB)
To book the course you will pay a non-refundable deposit (20% of the course price), and the rest should be paid before the course starts.
All bookings at our website are fully refundable in the event of COVID-19 travel restrictions.
** This workshop must be booked at least 1 day in advance.
Related Events