Tantra for Women
October 22, 2022 @ 10:00 am

-

October 23, 2022 @ 8:00 pm

UTC+7

EUR€38.00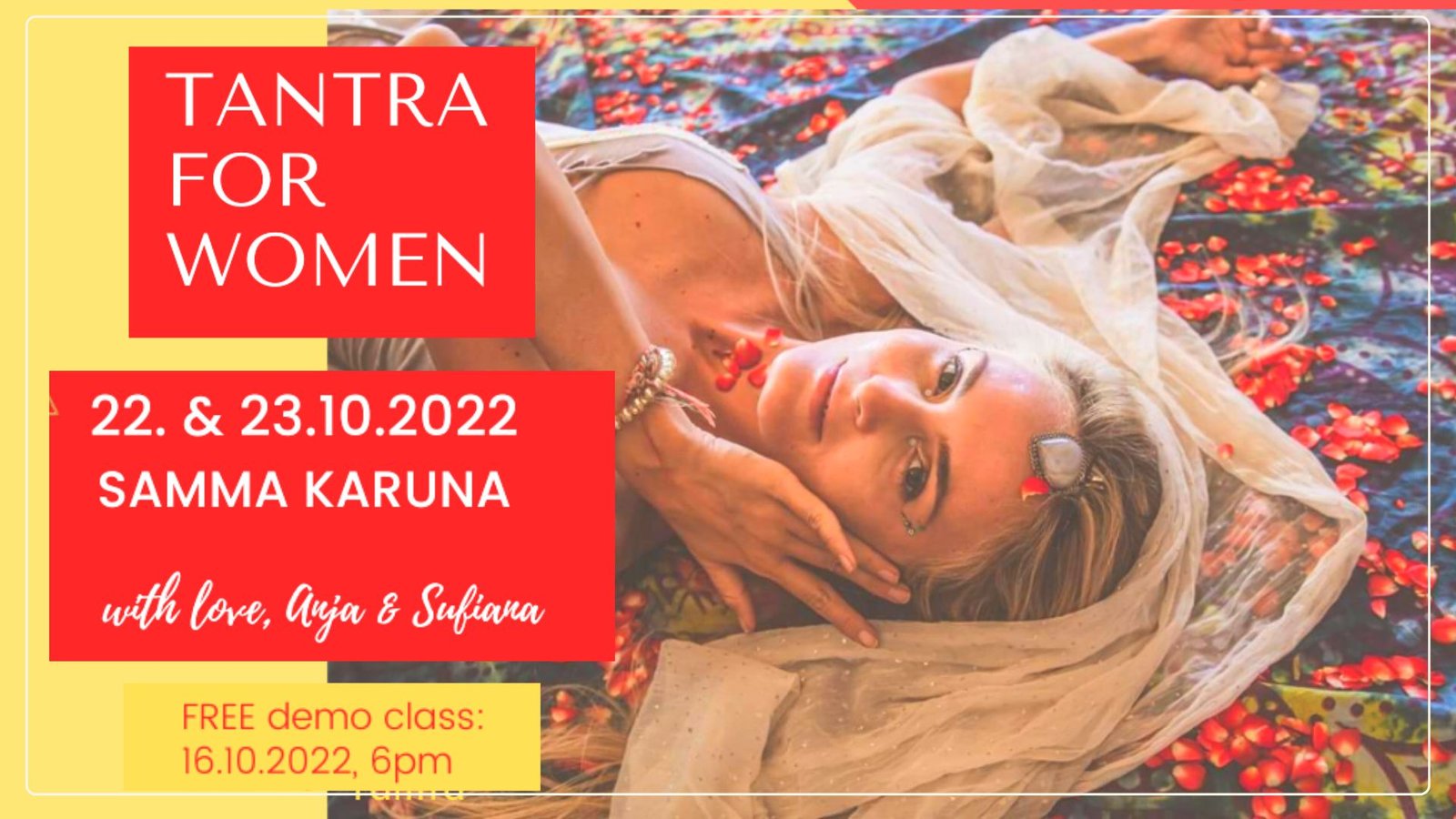 Tantra for Women
2 Day Immersion for a beautiful and transformative sensual experience
We are looking to dance, love and play with you and to serve you in a deep, beautiful and transformative sensual experience.
"Unless a woman understands her own body and its desires, unless she becomes her own magical lover, it will be hard for her to find fulfilment in external relationships."
Anja & Sufiana
This workshop is about
Sensuality~Sexuality~Self Expression~Self Love~Self Empowerment~Sisterhood~Spiritual Awakening
---
Beloved Shakti,
Are you curious about how it would feel like to unlock your full potential of feminine and sexual power?
Are you longing for a deeper CONNECTION to your own body?
Are you longing for more INTIMACY with yourself and others?
To live from the deepest depths of your cracked open HEART?
Do you long to reclaim all parts of you? Do you desire to awaken or deepen the power of your sensuality and sexuality? But don't know how?
Then, THIS workshop is for you!
This is a 2 day of fundamental Tantra immersion designed especially for women who are ready to take the next step towards living a fuller life,
🌹by connecting deeper with their own sacred body temple through all of their senses
🌹 by connecting with their Yoni, learning to listen to her deepest desires, as well as her boundaries
🌹 by stepping on the journey to become more feminine, soft, gentle and loving towards yourself and others through living fully from their hearts
🌹 by understanding, respecting and reclaiming their boundaries
🌹 by healing shame and guilt – the two greatest blockages on the journey  towards pleasure, joy and playfulness
🌹 by connecting in a new way with other women out of deep love, respect,  appreciation, compassion and sisterhood.
🌹 by learning how to access and express more parts of herself
🌹 by connecting to her wild side in a safe container based on consent
🌹 by understanding the subtle art of touch and pleasure
🌹 by learning the sacred arts of giving and receiving and of allowing and attracting
🌹 by understanding the female body and sexuality better
We create a safe, Trauma informed space and sacred container for you to explore yourself and your body, to play and experiment, to be and to feel, to be loved and seen, to open up and learn, to grow and let go. Flow with other sisters in one sacred ocean of the Divine Feminine energy, thereby empowering your inner feminine essence.
We invite you to a workshop of SHAKTI BLISS living from ECSTASY with the following techniques:
🌸 Guided meditation
🌸 Embodied feminine rituals
🌸 Dance the Sacred Feminine Archetypes
🌸 Tantra Breathwork
🌸 Sacred Sensual touch, self-pleasuring practices
🌸 Awakening the senses, sacred tantric touches
🌸 Yoni Egg ritual and practice
🌸 Female body and sexuality, pleasure points and basic anatomy
🌸 Wheel of consent and more
---
TANTRA is one of the deepest and fastest pathways to spiritual awakening and the feeling of oneness with the cosmos. This path is about inhabiting and reclaiming your own body, heart and soul by awakening your senses, your sexual power and the magic of your kundalini energy. Through intimacy, trust, sincerity, sacredness and truthfulness. Are you ready for this journey to liberate your true AUTHENTIC self?
If every cell in your body says YES  to this invitation, then
WELCOME HOME SISTER…. 
Let us walk the path of BLISS together!
PLEASE NOTE:
All exercises are optional so participate as per your comfort. No previous experience is required.
---
SCHEDULE:
10:00am – 1:00pm Morning session
1:00pm – 2:30pm Lunch break
2:30pm – 5:30pm Afternoon session
5:30pm – 6:00pm Evening break
6:00pm – 8:00pm Evening session (note: this session can take up to 30mins longer, please do not make other plans before 8:30pm)
---
ABOUT THE FACILITATORS:
Sufiana (India, California)
Sufiana is originally from Bombay and has lived in Los Angeles and San Francisco as well. She leads retreats and workshops in India and internationally for Feminine Spirituality focusing on Women's Empowerment, Feminine Embodiment, and Creative Arts Healing.
She holds a Masters degree in Philosophy, has studied Expressive arts therapy in San Francisco, holds a Post-grad Certificate in Women's studies and is a trained Yoga instructor specializing in Pranayama, Meditation, stress management, trauma healing and chanting, also trained in Reiki and Pranic healing.
In her spare time, she loves to study astrology, dance, work with kids, write Sufi poems, act in theater, sing, paint, photography, travel, etc….
Her path, she says is the path of Unconditional Love and of REVIVING and being of service to the DIVINE FEMININE thereby restoring the balance between Divine Masculine and Divine Feminine energies.
---
Anja 
Anja is a Trauma informed and certified holistic life, relationship and intimacy coach. She works with individual, ancestral and collective trauma and offers 1:1 / 1:2 coaching sessions, workshops and longer programs.
Since three years, she works as a  Tantra and Meditation teacher on Koh Phangan. Her work is based on Tao Tantric Arts, Qi Gong, TCM, Kinesiology, Yoga, the wheel of consent, collective and individual trauma work with Thomas Huebl, dance and movement therapy, embodiment practices, sexological bodywork, breath work, the art of touch, somatic healing, authentic relating, non violent communication, systemic constellations, inner child work and much more.
Over the past 15 years, she has studied Tantra, Yoga, Meditation, Qi Gong, Tai Chi, Kinesiology, Buddhism, TCM, Ayurveda, NVC, NLP, Hypnosis, intuitive healing, breath work, sexological bodywork, sound healing, movement and dance therapy, ecstatic and archetype dance and much more with Thomas Hübl, Mantak Chia, Layla Martin, Dr. Joe Dispenza, Veit Lindau, Peter Levine and many others.
Her work is based on the philosophy and practices of Konfuzius , Lao Tse (she studied Chinese culture and philosophy), Hermetics, Kaballah, Osho, C.G. Jung and many others.
---
ENERGY EXCHANGE:
Early bird until 18th October: 7.000 Baht (189 EURO)
Full price: 10.000 Baht (271 EURO)
To book your spot a non-refundable
If you really want to join and can not afford the full price, please reach out to us and we will find a solution.
If you have more than enough and would like to sponsor another sister to take part in one of our programs or workshops, please transfer the amount you want to donate for the scholarship program here and add the keyword "scholarship".
---
20% discount for the volunteers
** This workshop should be booked at least 1 day in advance.
Related Events