Women's Circle TTC
November 14 @ 9:00 am

-

November 26 @ 6:00 pm

UTC+7

EUR€176.00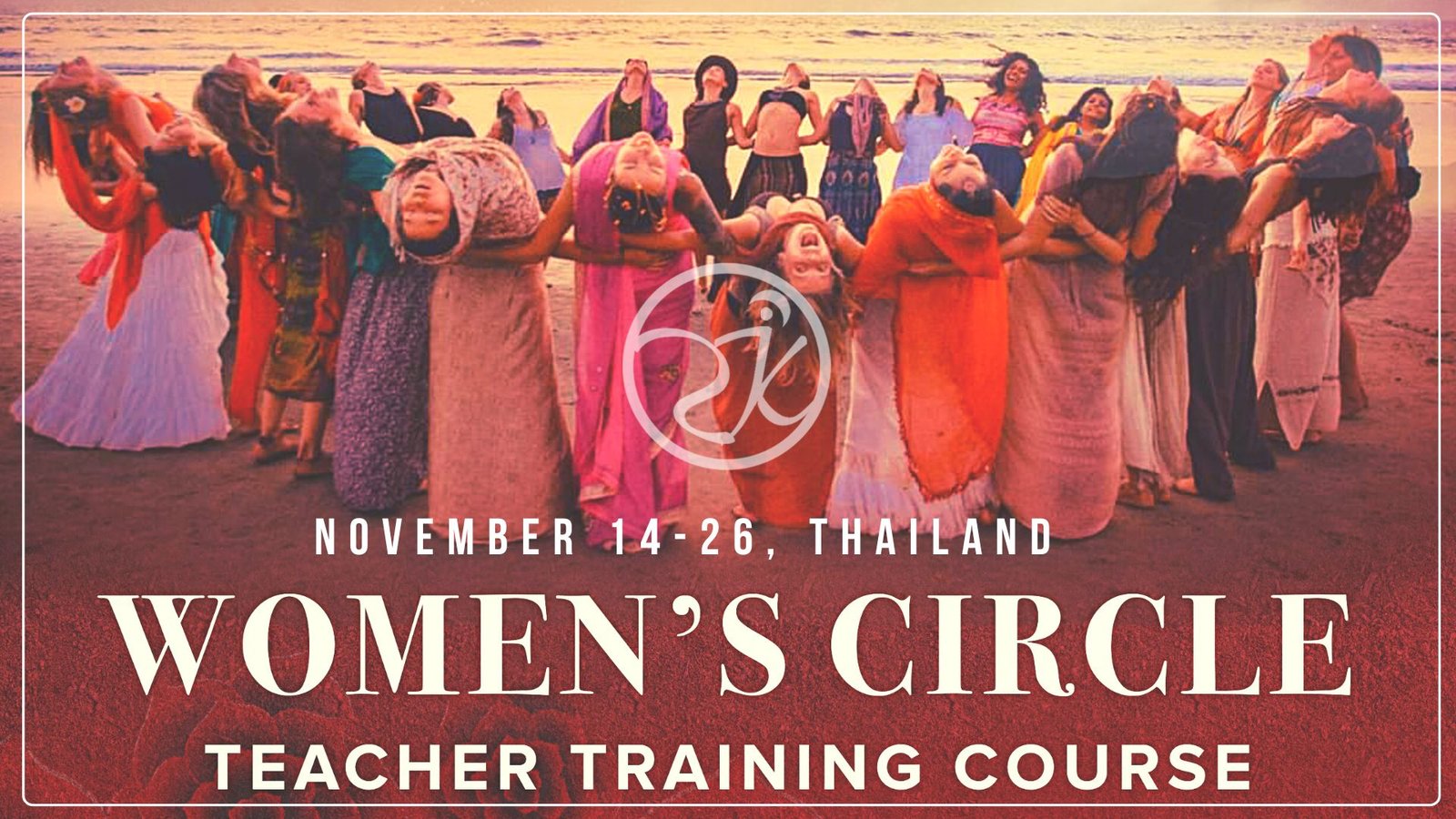 WOMEN'S CIRCLE TEACHER TRAINING COURSE
WE INVITE YOU DEAR SISTERS / YOGINIS / WILD WISE WOMEN,
to be initiated as the Ancient High Priestess that you always were….
If your Soul has been yearning to live a life of Devotion, Authenticity and Alignment with a greater purpose, to feel the deeper pulse of life, to serve the Divine Feminine, being Her Voice, being a catalyst of Transformation in our Yoniverse…..HEALING, AWAKENING, EMPOWERING many…..Then this circle lovingly invites you with open arms…
🌸  —————————————————- 🌸 
THIS COURSE WILL HELP YOU to
* Lead your own Women's Circles and Workshops
*Become a one-on-one coach for women
* Be a channel of Feminine Healing, Empowerment and Womb wisdom
* Ancient Goddess Teachings, Mantras, Mudras, Breathwork, Creativity, Embodiment Practices, Sacred Sensuality etc
* Honor our death-and-rebirth cycles leading us toward an inner Alchemical Transformation
* Learn the Principles of Feminine Spirituality
* Unleash the Dance of ultimate Surrender, Truth and Love….
🌸  —————————————————- 🌸 
Techniques:
*FEMININE SPIRITUAL AND EMBODIMENT PRACTICES!!!
*GUIDED MEDITATIONS/YOGIC BREATHWORK
*RITUAL
*THEATER AND OTHER CREATIVE ARTS THERAPY TOOLS
*FEMININE TANTRIC SENSUAL DANCE (Movement Meditation), SHAKTI TEMPLE DANCE
*STORYTELLING
*VOICE/ SACRED CHANTS
*SACRED TOUCH
TO AWAKEN HER, EMBODY HER, BECOME HER!!!
🌸  —————————————————- 🌸 
What You'll Learn Each Day?
Each day is organized around different Goddesses and the Principles of Feminine Spirituality. And we use special tools to help you access and integrate the principle. For example, we'll explore: dance, drama, sound healing, ritual, poetry, deep soul inquiry questions, storytelling, and guided meditation
We'll begin each day with a ritual or meditation that gently opens us up to the realm of Infinite. And we close each day with a nurturing Closing Circle exercise.
Here's more about what happens each day:
Day 1:​ (only Day 1 will begin at 11am)
-Learn what is the Divine Feminine?
-Discover what fate you are coming from, and what destiny you are moving toward (Storytelling, Art, and Movement therapy exercise).
-Discover the strengths you bring as a feminine workshop leader.
-Learn to practice Self-nurturance
-How to use the elements of Art therapy in your circles.
-Meet your inner goddess. You'll experience union with her, and receive a gift from her.
Day 2:
-The HIGH PRIESTESS initiation ceremony for you to become a channel (chalice) for the Goddess essence. Become HER, feel her beauty, power, and Her profound Shakti alchemy.
-Learn concrete examples of rituals you can use in your own women's circles.
-Learn how to structure a successful women's workshop and circles.
-Goddess Saraswati and our Creative Self Expression
-Storytelling, what is your Heroine's journey?
Day 3:
-Create and explore sacred space.
-Use guided meditation to awaken your emotions and heal old wounds.
-Healing shame and guilt.
-Learn the elements of dance therapy that can be used in your circles and workshops or for personal healing.
-How to work with old limiting patterns and increase your ability to receive.
-Discover how to structure and create a safe space in your own circles.
Day 4/5:
-Heart chakra Inner child meditation, heal the wounds of your own inner child- learn to become your own good-enough mother.
-Healing Mother-Father wounds in us, resurrecting the inner Divine Masculine and Divine Feminine.
-Learn 20 themes you can use for your own women's circles, including anger breakthrough, moon cycles, owning and reclaiming your power, healthy boundaries, womb healing, Reclaiming Feminine Intuition, etc.
-Drama Therapy elements.
Day 6:
-Shadow-work with Goddess Kali,
-Death and Rebirth
-Healing unhealthy patterns
Day 7:
-It will be a holiday for you to integrate and prepare for the presentations.
Day 8:
-Reclaim and celebrate your sensuality Tantrik dance, with Goddess Aphrodite.
-Why is our understanding of self-love often limited and how to deepen it to love all of our SELF.
-Release self-judgments about our bodies, and see the beauty in other women as a reflection of our own beauty.
-Explore how to bring your deepest talents into your work, and create workshops around your shadow qualities.
-Temple dance
Day 9:
-Goddess Lakshmi and our relationship to abundance.
-Yogic breathwork
-How to bring the teachings of different goddesses in your work.
-Learn how to release what you don't want, and attract what you do want.
-Uncover your internal resistance to success and abundance,
Tool – Guided meditation
-Shakti tantra
Day 10:
-Seven chakra meditation, Grounding, Centering, Clearing other people's voices and judgements from your system.
-Students presentation
Day 11-
-Use social media and other tools to attract women that are in resonance to your circles/workshops.
-Yogic sound practices
-Deep soul inquiry question
-Mantra and Yoni Mudra
-Students presentation
Day 12:
-Feminine Embodiment meditation.
What is a present for you? Give it space, learning to live from a place of deep surrender to what is.
-Which Goddess challenges you?
-Womb healing and meditation.
-Addressing Challenges: Self-doubts, self-confidence, Projections, etc.
-Students presentation
Day 13:
-Open mic
-See how your own healing can help heal the world. Gayatri mantra and Peace prayers for the planet. Living your dharma, your soul's deepest calling.
-What are you committed to? Self-marriage ceremony.
-6 months of the coaching program
-Enjoy your graduation ceremony, and receive your Certificates.
There's so much more in store for you. If this feels in resonance for your personal healing journey, as well as to be of service to other women, to our world; then I welcome you to the circle of Yoginis.
Every morning we will open with Yoga, Belly dance and other feminine practices by Surya Sophia. There will be extra Workshops offered by her during the training (www.suryasophia.com).
🌸  —————————————————- 🌸 
Energy exchange:
7th of August – 730€
22nd of August – 780€
7th of September – 830€
Full price 22nd October onwards- 880€
🌸  —————————————————- 🌸 
About the facilitator: Sufiana (India, California)
Sufiana is originally from Bombay and has lived in Los Angeles and San Francisco as well. She leads retreats and workshops in India and internationally for Feminine Spirituality focusing on Women's Empowerment, Feminine Embodiment, and Creative Arts Healing.
She holds a Masters degree in Philosophy, has studied Expressive arts therapy in San Francisco, holds a Post-grad Certificate in Women's studies and is a trained Yoga instructor specializing in Pranayama, Meditation, stress management, trauma healing and chanting, also trained in Reiki and Pranic healing.
In her spare time, she loves to study astrology, dance, work with kids, write Sufi poems, act in theater, sing, paint, photography, travel, etc….
Her path, she says is the path of Unconditional Love and of REVIVING and being of service to the DIVINE FEMININE thereby restoring the balance between Divine Masculine and Divine Feminine energies.
🌸  —————————————————- 🌸 
To book the course you will pay a non-refundable deposit (20% of the course price), and the rest should be paid before the course starts.
All bookings at our website are fully refundable in the event of COVID-19 travel restrictions.
** This workshop must be booked at least 3 days in advance.
Related Events