Our Aerial Yoga teacher training covers an exceptional study of aerial Yoga techniques and practices at Samma Karuna Thailand
What will your day consist of?

8:30-10:30am – Aerial Yoga class Practice
10:30-11:00am- Break
11:00- 1:00pm - Aerial Yoga Adjustment/ alignment and variations /modifications of the postures performed at class.
1:00-1:15pm – Short break
1:15- 2:30pm – Teaching Methodology

In this teacher training will learn to teach different modalities of Aerial Yoga class such as: restorative aerial yoga, vinyasa aerial yoga, aerial yoga flow, power aerial Yoga, aerial meditation, acro-aerial Yoga, among others.

This training counts for your continuing education requirements of Yoga Alliance.

** A free teaching internship at the school is offered to all graduates


Application requirements for our course

The pre-requisites to enroll in our Aerial Yoga Teacher Training 50 Hour Course are:
• 200 hr. hour Yoga teacher training previously completed
• A commitment to learning and motivation to become an Aerial Yoga teacher (even if you don't have plans to teach in the near future).
A high level of self-discipline and a stable mind is required during the Aerial Yoga TTC as it is physically and mentally demanding.

You must be able to read, speak, and comprehend English with a satisfactory degree of fluency.
In order to be considered for the Aerial Yoga Teacher Training Course you need to pay an online deposit at least one month before the training start date of USD 300 and fill-out the application form that will be forwarded to you by email.
Full payment in cash for the balance of the tuition will be required upon your arrival.

This training is not advice for people who suffer:
Vertigo
Not regulated Hypertension
Cardiac problems

SUBJECTS COVERED:
Anatomy of the hammock and the different types of hammocks/swing
Safety and cautions when using the hammock/swing as a prop
Physiology of the body and how it reacts to anti-gravity training
Teaching Methodology of an aerial Yoga class
Aerial meditation
How to structure a safe, fun and integrative Aerial Yoga Class
Fascia system of the body and fascial release on aerial Yoga
Different styles of aerial Yoga: Vinyasa Aerial Yoga, Detox Aerial Yoga, Restorative Aerial Yoga, Acro - Aerial Yoga, Power Aerial Yoga.
The nervous system and how aerial Yoga class can soothe the nervous system
Aerial Yoga Nidra
Anatomy and Physiology of each of the Aerial Yoga Postures
The art of Adjustment and Alignment in Aerial Yoga
Aerial Yoga for Sports performance
Aerial Yoga for all types of populations (People with injuries and chronic diseases)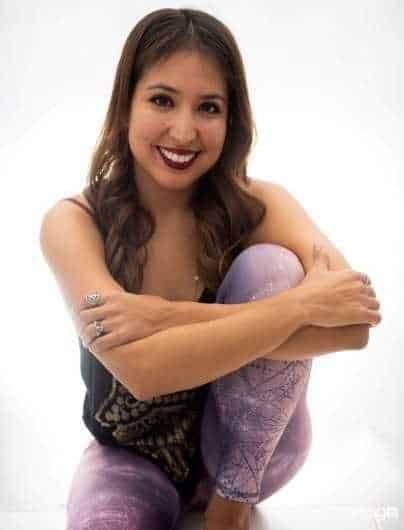 >
— About the Facilitator —

Alba Porras has two bachelor degrees one in Kinesiology and Health Sciences and the second one in Sports Training.
Movement and breath are her passion and her way of expression.
She first got her 200hr Yoga certification in Vancouver through Yoga Works, back in 2008.
She was first in love of land activities until a severe car accident and several injuries prevented her to continue on that journey.

Through the years she has been trained in:
Barre, Zumba, AquaFitness, Spinning Instructor
Stand Up Paddle Board Yoga Instructor
Restorative Yoga Instructor (200 hrs)
Trauma Informed Yoga Instructor
AIReal Yoga Instructor (50 hrs)
AeroYoga and AeroPilates Instructor (200 hrs)
Yoga Wall Instructor
TRX certified Trainer
Vedanta Yoga Nidra Instructor
She is a certified IIN Health Coach
She got also certified in thai Massage
She is a TRE practitioner in training (Since February 2019)
E-RYT and YACEP provider

She now has blended all her trainings to create her own antigravity program, which helps people restore movement through anti-gravity classes.
She is the Founder of Wellzense Health Studio located at Hermosillo Sonora.

20th of april, 2020
AERIAL YOGA TEACHER TRAINING