Tantra Sacred Dance Teacher Training for Women
February 7 @ 11:30 am

-

February 27 @ 6:00 pm

UTC+7

EUR€200.00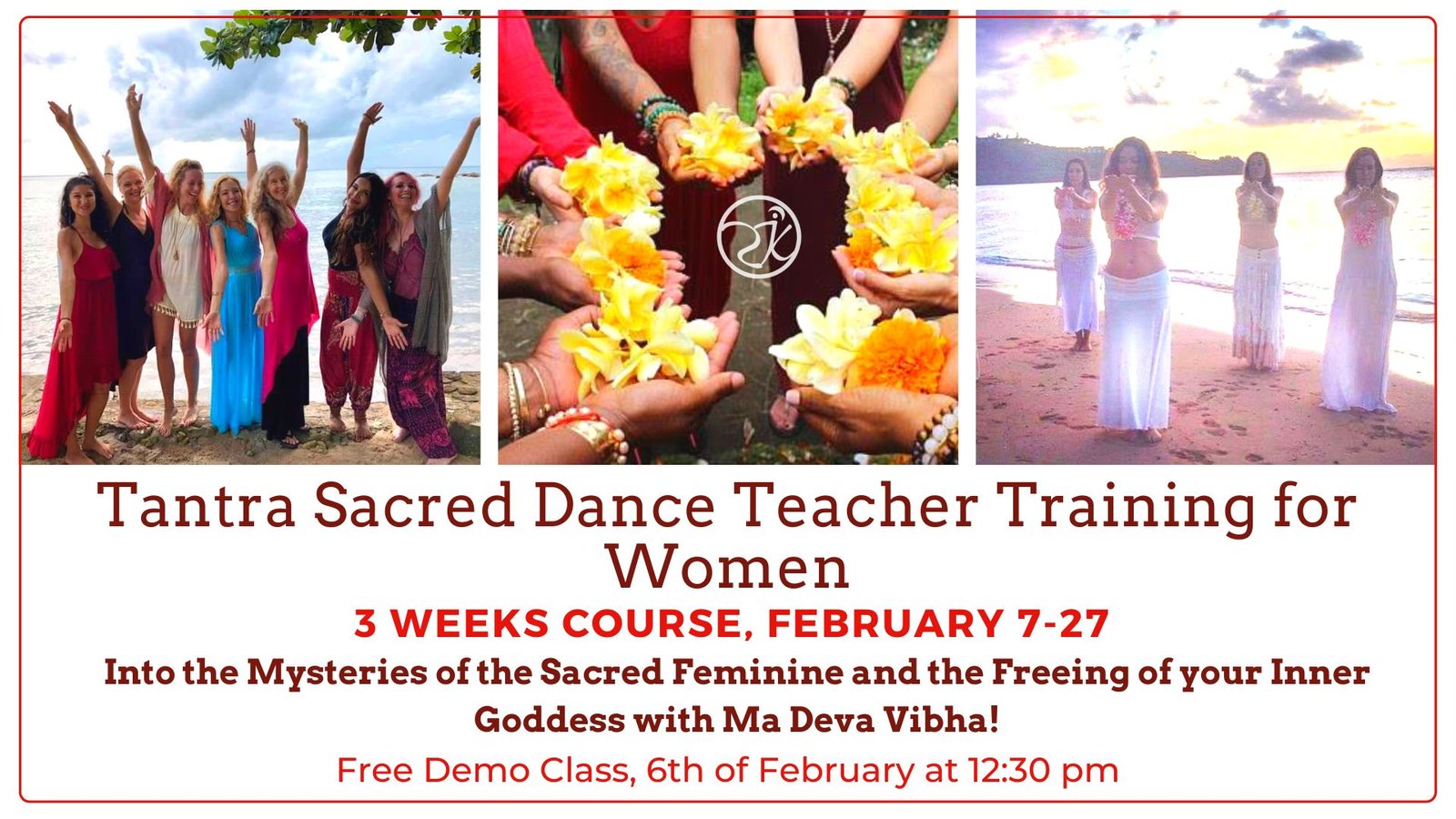 TANTRA SACRED DANCE TEACHER TRAINING for WOMEN 
Into the Mysteries of the Sacred Feminine and the Freeing of your Inner Goddess with Ma Deva Vibha!
Welcome dear Sisters to will learn Tantra Sacred Dance and authentic Tantra Techniques that can transform, empower and enable you to teach and join in the Awakening of the Goddess in Woman and the Return of the Sacred Feminine to our world!
Dates ~  February 7th – 27th, 2023
3-week Intensive
95 hours +
2 days off weekly
Dance experience is not necessary but the experience of personal spiritual practice(s) is essential.
---
TANTRA SACRED DANCE
From ancient temples of the East reemerged the art of Tantra Sacred Dance. Now experiencing a rebirth in our contemporary world Tantra Sacred Dance is a profoundly transformative and sensual dance meditation unfolding from the depths of your being. It is not a performance but a revelation of your essence your Divine Nature. It expands and refines your capacity for receptivity and attunes you to the divine energy flow of Existence. The Dance unites your body, heart and soul awakening your Inner Goddess.
---
OUR TANTRIC HERITAGE ~
In Tantric tradition, women are considered embodiments of Shakti, or the Goddess; the female expression of the Divine. Tantra Sacred Dance offers you a portal into the Mysteries of the Sacred Feminine and the Freeing of your Inner Goddess.
When women gather together in a sacred space, and dive deep into the inner mysteries of the divine feminine, profound opening and healing can occur.
The body is like an instrument, capable of holding higher and higher frequencies. The Dance enlivens the chakra system and kundalini energy and opens the energy channels.
As you deepen into the Dance it is possible to experience supreme states of joy, love and ecstasy ~ all accessible within your own body.
Through the practice of Tantra Sacred Dance we create a safe and supportive container for us to once again embody the wisdom, power and grace of the Goddess.
---
THE SACRED FEMININE ~
Bringing awareness to the sensations and movements of your body, you enliven your 'womb space'. This is where your goddess energy resides; the source of your wisdom, power, creativity and ecstasy.
Through the on-going practice of Tantra Sacred Dance this energy can be freed and rise up through your body opening your potential for expansion.
When you are fully present with inner vibration and subtle energy, the experience for the dancer and the witness of the dance becomes a profound catalyst for transformation and awakening.
Refining your receptivity and deepening into the Dance you become a priestess of the Sacred Feminine ~ learning and absorbing also through witnessing each other's transmissions of grace.
This receptivity is a portal into the realm of the sacred, into the magic, love and power abundantly available within you. Tantra Sacred Dance unveils your inner splendor.
From this place of remembrance and deep embodiment, we cultivate and reconnect with our inner source. From here we are more fully able to live our lives with joy, passion and purpose ~ opening to our full potential.
We experience a deeper merging with love and grace that empowers us, fulfills us and ripples out into all aspects of our lives.
---
'When the dancer disappears in her dance she is divine.
You are showered with blessings.
For the first time you come to know your grandeur,
the splendor of your being.'
~ Osho
---
TANTRA ~
A variety of authentic tantra meditations, techniques and healing methods will also be included through out the course. They are chosen to support the opening within your body necessary for the Dance and to deepen and expand your capacity to embody the Divine Feminine.
Many of the techniques being offered in this training are also especially selected for women and can be practiced alone – reconnecting you with the infinite source of love within you.
You will also learn partner tantra techniques that can deepen love and transport you into the realm of the sacred, allowing you to journey together on a transformational path of ecstasy.
All are honoring and open you to a deeper intimacy and communion within yourself, others and the divine.
'Tantra can transform the whole earth~
It is one of the greatest treasures
that is lying there, unused.
The day, humanity uses it,
a new love will surround the earth ~
The earth will become aglow with a new love.'
~ Osho
---
TEACHER TRAINING ~
This 3 Week Training will prepare you to facilitate Tantra Sacred Dance Women's Circles and Workshops and to taste the incredible transformation possible through the practice of Tantra and this Sacred Dance. After completion of the Course, it is recommended to continue an on-going practice for yourself and sharing with others.. In this way deepening into the immense transformational power that is inherent in the Dance. An on-going practice enables you to keep it flourishing within you and to transmit more and more fully the essence of the Divine Feminine when sharing.
Instruction on how to teach classes will be throughout the training and you will also have the opportunity to teach in the training.
Included is a complete manual of instructions for the Dance, meditations and techniques, as well as the music to use for teaching.
---
COME TO ~
~ Awaken your true essence and infinite potential. Enter the dimension of the Sacred. Embody the Goddess and experience the grace of being danced by the Divine.
~ Be supported in a safe circle of women as you witness each other's flowering and powerful transmissions through the practice of Sacred Dance.
~ Learn additional tantra techniques to practice alone. Healing and empowering yourself as you discover the immense source of love within you.
~ Learn partner techniques that can bring love and transformation to your relationship. Merge sexuality and spirituality through the sacred alchemy of Tantra.
~ Learn to increase your sensitivity to subtle energy, enlivening your chakras and your potential for expansion and ecstasy.
~ Experience your true beauty, power, courage, vulnerability and passion. Release your hidden splendor.
~ Learn how to share these transformational practices and step into work you love that supports your own growth and expansion and the awakening of the Sacred Feminine in our world.
~ The Awakening of the Sacred Feminine is urgently needed now for all of humanity and the survival of our planet.
---
ABOUT THE TEACHER ~
Ma Deva Vibha is working and teaching internationally in the field of Tantra since 1990. She was initiated by the Enlightened Mystic Osho in India in 1979 and lived there, immersing herself totally in the world of meditation, dance and inner transformation for 25 years. During those years she was also trained and certified through the Academy of Healing Arts, the Institute of Love and Consciousness, the School of Mysticism and the Meditation Academy of the Osho Multiversity with international masters of their fields. Vibha has extensively trained in Tantra and Tantra Sacred Dance with many teachers. Most notably with Ma Ananda Sarita from Tantra Essence where she was a teacher for many years.  She offers Tantra Workshops, Tantra Sacred Dance Groups, Retreats and Teacher Trainings, Reiki Energy Healing and Intuitive Readings. She has a University degree in Psychology (USA). Her offerings are in support of women honoring themselves and awakening to their true inner beauty and potential.
REFERRAL from Ma Ananda Sarita
Tantra Master, Mystic & Founder of Tantra Essence.
'Ma Deva Vibha is has been steeped in Tantra, Dance and Meditation for many years, both in Osho's community in India and also in the USA and the U.K. She has assisted and co-taught with me on numerous occasions, and was a teacher through Tantra Essence for many years. Her presence is always a gift to any group she graces with her presence. She is proficient in Womens groups, Singles and Couples Tantra. Her transmission of the divine feminine is an inspiration for women of any age.'
For any question, you can contact Vibha at devavibha@yahoo.com
---
COST of  the Teacher Training
 ~
$1785 USD
$1685 USD – early bird price before the 1st of February.
$1685 USD – per person when booking with a friend
Early booking is encouraged as space is limited.
Accommodation and food are not included.
---
Related Events