Yoga Therapy Certification (YTC)
Introduction
Yoga promotes health in ways that modern science is just beginning to understand. Even though it has been applied with therapeutic intention for thousands of years, Yoga Therapy is only just now emerging as a discipline in itself. Increasing numbers of health care practitioners are starting to include yogic techniques in their approach to healing, and more yoga teachers now include a therapeutic intention to their teaching.
We, at Samma Karuna, understand that the body knows how to heal itself. Most of the time we just need to 'get out of the way', allowing natural healing to happen.
As yoga practitioners we want to heal ourselves, as yoga therapists we have a desire to support and guide our students to heal themselves.
Description Of The Course
In this 12 day course (10 days of instruction) designed for yoga teachers and experienced practitioners, you will receive a better understanding of how to use asana, pranayama and meditation, to guide you into the first steps as yoga therapists.
You will learn about optimal body posture and how to adjust and accommodate the yoga practice to any kind of practitioner. In the course you will learn the tools to bring yoga to the practitioner, rather than mold the practitioner into the yoga practice.
In order to get a deeper, more holistic understanding of the human body, you will also learn and practice Thai yoga therapy (traditional Thai massage) and Reiki.
With the practice of Thai yoga therapy, you will gain confidence and a greater understanding of hands-on adjustments. With the Reiki practice you'll understand how to be a better vessel to the light of yoga and how to channel Prana (chi).
The Full Course Curriculum Includes Lectures And Guidance On:
Correct body posture and core muscles
Shoulder girdle and chest opening
Safe backward bending
Hamstrings and piriformis muscles
Safe forward bending
Healthy Knees
The shoulder stand sequence
Active/passive twists
Inverted asanas/ adjusted and advanced.
Reiki practice
Thai yoga therapy (traditional Thai massage)
The Student Will Understand How To Adjust The Yoga Practice For:
Beginners
Old age
Illness recovery
The Student Will Learn About:
Restorative yoga postures
Adjusted sun salutations
Adjusted breathing exercises
Yogic Meditation and guided Meditation
Alignment of yoga postures (Beginners/ intermediate/ advanced)
The Student Will Understand:
Kyphosis
Lordosis
Flat back
Scoliosis
Sciatica
Disc herniation
Bulging disc
Fibromyalgia
Thyroid gland disordersBLE)
And how to work with these conditions as yoga teachers.
During the final days, the students will practice teaching (to the rest of the group) yoga therapy sequences.
How Your Day Will Be Structured:
7:30am Morning meditation
8:00am Light breakfast based on juices, cereals and fruits
9:00am Theory class and a related physical sequence.
11:00am Break for lunch and rest
2:00pm Therapeutic yoga class.
4:00pm Tea break based on chai, fruits and raw cakes.
5:00pm Lecture/ Reiki/Thai yoga therapy
*Every student will receive a course text book and certificate.
Upcoming Dates
Starts: 7th of April 2016>
Ends: 18th of April evening (check out 19th of April).
Price: 43.277 baht (1370 US dollars), total price including course, accommodation and 2 light meals a day.
Starts: 8th of June 2016
Ends: 18th of June evening (check out 19th of June).
Price: 43.277 baht (1370 US dollars), total price including course, accommodation and 2 light meals a day.
Starts: 11th of August 2016
Ends: 22th of August evening (check out 23th of August).
Price: 43.277 baht (1370 US dollars), total price including course, accommodation and 2 light meals a day.
Course Highlights
Daily meditation practice
Daily therapeutic yoga class
Daily theory classes & lectures
Yoga therapy certificate to approved students
13 Days accommodation
2 Daily light meals based on chai, fruits and raw cakes.
Collection service from the pier
** Standard accommodation with fan is provided with possibility to upgrade.
** 5% discount by booking online.
Oren has been practicing yoga for the last 15 years. He combines his knowledge as an Osteopath (anatomy and bio-mechanics ) with his yoga anatomy course his combined theoretical knowledge and personal experience in his teachings. Over the year Oren has treated hundreds of yoga practitioners having a understanding of common injuries in the yoga practice. Oren teachings are practical and experiential. By exploring the anatomy through the asanas practice. Understating how each specify muscle can contribute to aligment and on the other hand can contribute to injury. Oren teaches yoga anatomy and alignment all over the world in order to help yoga teachers to understand the mechanic or reason of common injury and help o prevent them . Throw this knowledge the student also will deepen his own practice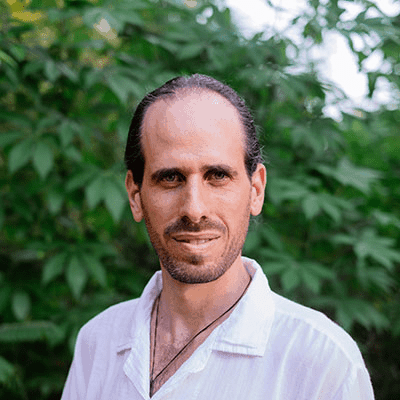 Wear and tear, injuries, pain and disconfort have been the perfect catalyst for Antoine to explore his own hability to heal. He walks the talk and teach what work for him to live a life free and healty. He studied yoga for the last 8 years to eventually gratuate to E-RYT-200 and graduated from the Yoga Therapy program at Mount Royal University in Calgary.
Booking
Yoga Therapy Certification course (including accommodation and 5% online discount)
*** Samma Karuna volunteers and yoga teacher training students are entitled to a 20% discount over the regular price.