Healing Full Body Massage Course
December 4, 2022

-

December 11, 2022

EUR€158.00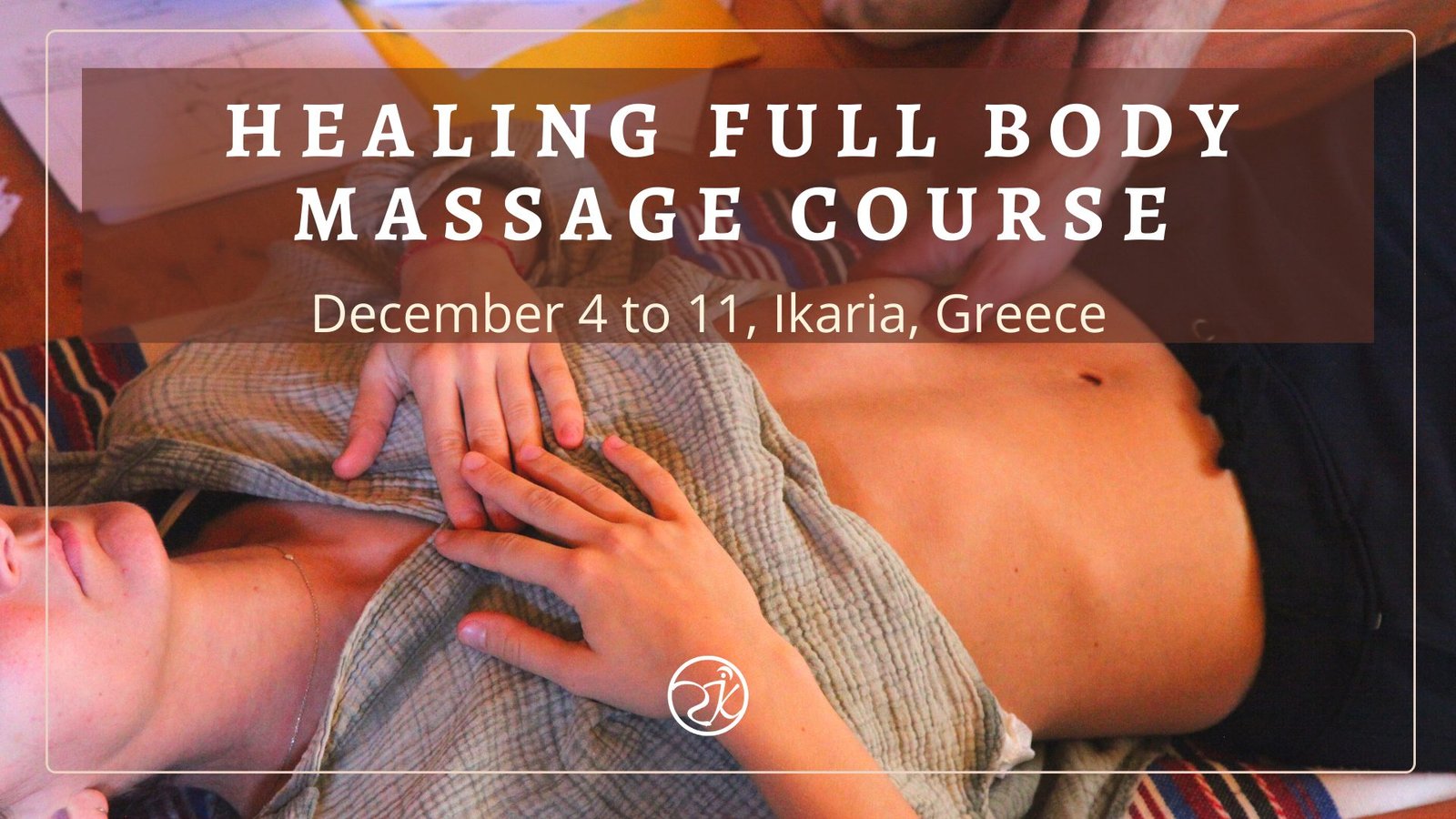 HEALING FULL BODY MASSAGE COURSE
7 nights / 6 days
We invite you to participate in the Healing Massage therapy course on the healing island of Ikaria, Greece, to learn techniques for self-care and also for helping others. Ikaria is the number one longevity hot spot around the world! The island of Icarus.
At this workshop, you will learn how to recycle and transform negative energies that obstruct the internal organs and cause knots and pain, how to clear out the toxins, and bad emotions and how to energize, strengthen, and detoxify the internal system and the whole body.
In this course, for the first 3 days, you will learn everything about abdominal massage and from the 4th day, you will learn full body massage techniques.
"If the stomach is strong, life will be healthy, if the stomach is weak, life is unhealthy" Yu Jua Yan 16th Century Medical doctor.
Massage is the oldest form of medicine known to humans and has been practiced for thousands of years. Among many forms of different massage therapies, one of the most healing ones is the abdominal massage, as our abdominal area is also known to be our second brain and when we accumulate a lot of stress and tension it can weaken our organs and reduce energy levels.
Besides abdomain, you will also expand your knowledge to other main parts of the body to be able to offer and share more complete therapy for us and others (lower back, shoulders, neck, etc.)
With the Healing Abdominal Massage course (3 days) you will be able to give 1 hour of sequence and with the Full body massage course (6 days) 2 hours sequence.
---
PROGRAM
Day 1
What is Chi Nei Chang?
Nature and the universe
Navel center and body structure
Techniques for preparing and protecting yourself
Practicing the wind gates
Hand Techniques
Relaxing the diaphragm
Yoga, Meditation, or QiGong
Day2: Tonifying the organs and releasing emotional energies
lungs
spleen
liver
kidneys
heart
the area around the navel
Yoga, Meditation, or QiGong
Day3: Detoxifying the Organs
lungs
stomach
pancreas
liver
spleen
kidneys
heart
Yoga, Meditation, or QiGong
Day4: Prone Position
Techniques for Arms
Fingers
Legs
Feet
Hips
Yoga, Meditation, or QiGong
Day 5: Side Position
Techniques for Lower Back
Hips
Upper back
Scapula
Yoga, Meditation, or QiGong
Day 6:  Sitting Position
Techniques for Shoulders
Neck
Head
Yoga, Meditation, or QiGong
Techniques for caring for yourself and draining negative energy and self-treatments.
---
About the facilitator
Harilaos began his deep spiritual journey and bodywork in 2006, studying yoga, tantra and practicing vipassana.
The universe knocked on his door in 2012, that's when he found a mentor and went to Thailand to study the art of Thai yoga massage. He had the opportunity to learn and experience different styles from some of the great masters such as Pichest, Sinchai and Mr. Nat (school for the blind).
Over the years of practice, Charilaos has created his own style of healing therapeutic massage.
The name Charilaos means "benevolence towards people". So he discovered that one of his life purposes is to help people through massage. He is also a chef, a natural builder and he cultivates his own food. As such, he is always connected to Mother Earth, as this makes him capable of deeper and more therapeutic massages and classes.
---
WHAT IS INCLUDED
-7 nights of Shared Accommodation in Agriolikos pension, Ikaria, Greece
-Course and course materials
-Certificate upon completion
---
CONTRIBUTION
Healing Massage: Full body 6 days (7 nights accommodation)
790€ General price
620€ for Samma Karuna Teacher Training course students
390€ for Ikarian residents (without accommodation)
Maximum 10 participants!
To book the course you will pay a non-refundable deposit (20% of the course price), and the rest should be paid before the course starts.
All bookings at our website are fully refundable in the event of COVID-19 travel restrictions.
** This workshop must be booked at least 3 days in advance.
Related Events