Kind Awareness Immersion
February 28 @ 9:30 am

-

March 3 @ 5:00 pm

UTC+7

EUR€67.00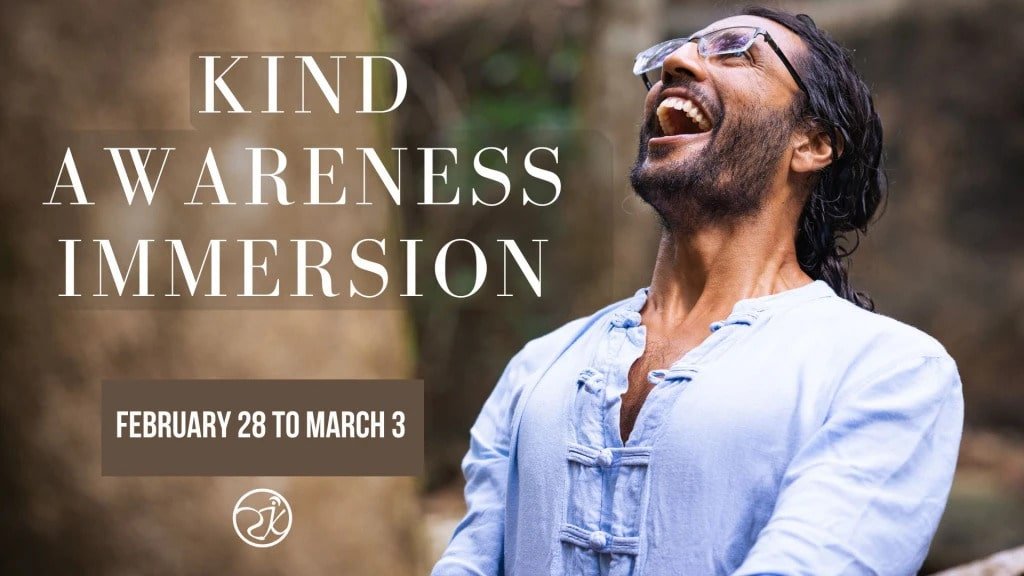 KIND AWARENESS IMMERSION
Release anxiety, stress and sadness; and open your heart to inner love, love with others, and love with the Earth.
A profound and playful journey, guided by a highly experienced meditation teacher:
❤️DEEP HEALING AND GROWTH, Learn to release your fears and limiting beliefs through powerful practices of kind awareness, and from this, connect to the higher states of love and aliveness.
❤️OPEN HEARTED CONNECTING, in playful movement, (optional) touch, sharing, and stillness; you will be guided to bring awareness to the emotional blocks to connection with others, and release these to open your heart
❤️FEEL SAFER AND MORE GROUNDED, through strengthening your boundaries, somatic practices to heal your nervous system and constant guidance to listen to your needs.
❤️WATERFALL EXPLORATIONS Open your heart to love and inner power from the Earth, through meditation and movement practices at the beautiful waterfalls of Koh Phangan.
❤️INTUITIVE ENERGY READINGS Gain deep insights into your specific personal blocks to happiness and be supported to release these, through guidance from a highly intuitive facilitator.
❤️LONG-TERM SUPPORT AND COMMUNITY Receive a free toolkit of 5 videos guiding you through practices we learn in the course. And join our online interactive community platform, with regular live events and a library of practices (priced separately), so as to be supported and inspired along your journey of inner growth.
❤️LEARN TO HEAL YOURSELF, by learning and applying the powerful method of Kind Awareness throughout the workshop you can start to use every experience in daily life to release emotional blocks and open your heart to love.
————————–
TRY THE DROP-IN SESSION EVERY WEDNESDAY 1:30-3:30PM @SAMMA KARUNA
Find all the details at https://fb.me/e/29RieDE1O 
—————————
THE FACILITATOR – Nishan Disanayake:
Your journey to inner love can be playful and pleasant. Ive been practicing since 1998 and what I offer here is the most effective and joyful methods that I have seen.
Ive been meditating since 1998 and have learnt all the main Theravada Buddhist practices, including numerous retreats in the lineages of Ajahn Chah, Ven. Thich Nhat Hanh and others. Since 2016 I learnt to deeply enhance the effectiveness of inner healing meditation through relaxation, grounding, nervous system regulation and trauma release practices.
I have been teaching since 2003 and have guided many many healing retreats, personal healing sessions and meditation teacher trainings.
Moreover, every single day I practise exactly what I teach.
The journey to happiness is really not complicated, get to feel safe in your body, and observe your feelings with kindness.
Human connection and the Earth help a lot. 
So, lets connect and grow together.
Learn more at Kind-Awareness.Life
——————————
DATE AND EXCHANGE
February 28 to March 3 – 9:30am to noon; 2pm to 5pm
Free demo: February 27 at 12:30 pm
Exchange: 10,000THB (279€) (first 6 tickets) then 12000THB (333€)
To book the course you will pay a non-refundable deposit (20% of the course price), and the rest should be paid before the course starts.
All bookings at our website are fully refundable in the event of COVID-19 travel restrictions.
*This workshop should be booked at least 1 day in advance.
Related Events