Tantra Transformation
January 4 @ 11:30 am

-

January 6 @ 6:00 pm

UTC+7

EUR€70.00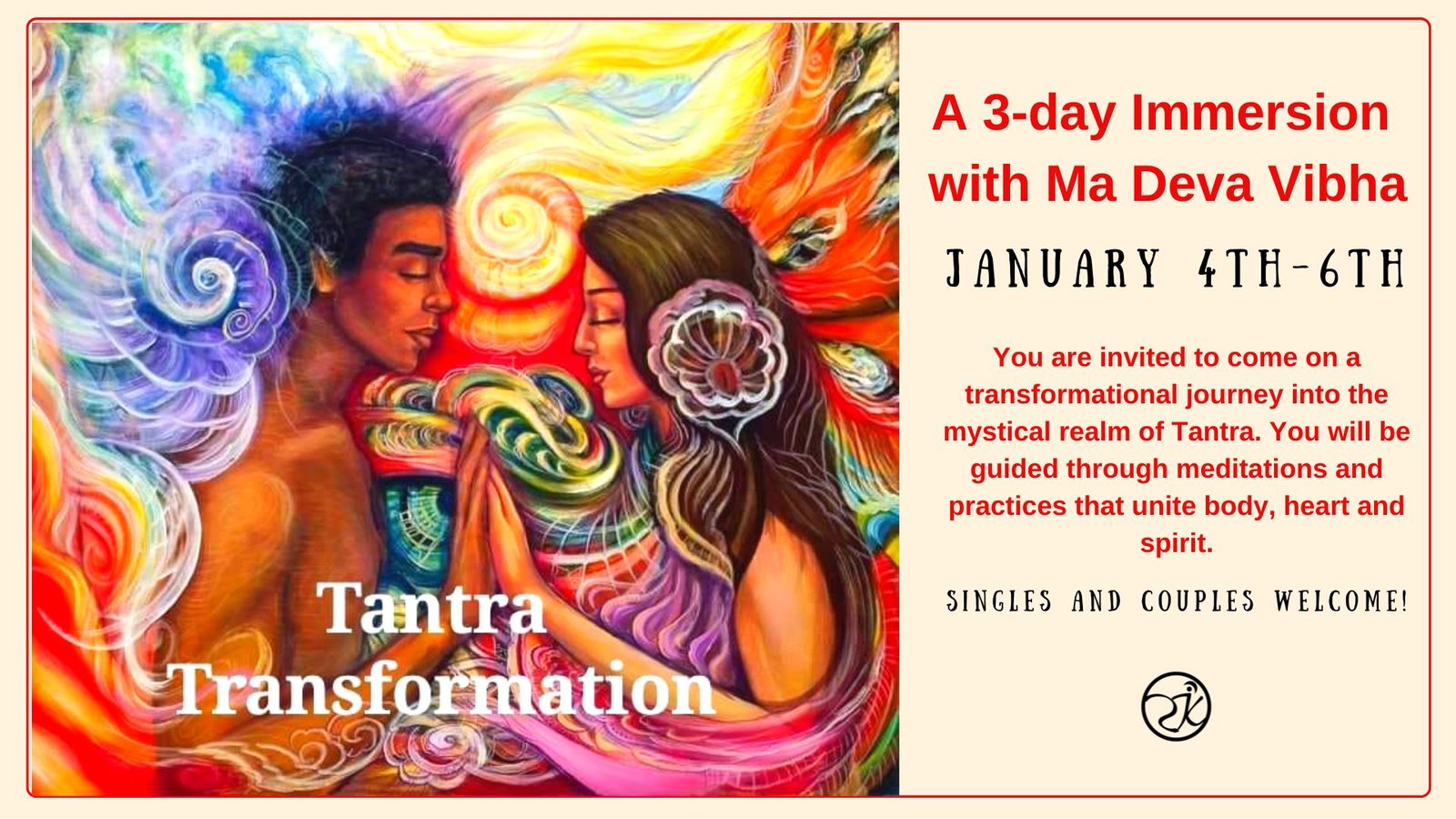 Tantra 

Transformation
A 3-day Immersion with Ma Deva Vibha
'Tantra can transform the whole earth~
It is one of the greatest treasures
that is lying there, unused.
The day, humanity uses it,
a new love will surround the earth ~
The earth will become aglow with a new love.'
~ Osho
You are invited to come on a transformational journey into the mystical realm of Tantra. You will be guided through meditations and practices that unite body, heart and spirit.

Tantra offers you a portal into mysteries that can deepen your experience of love and transport you into the realm of the sacred, allowing you to journey on your own and with your partner on a transformational path of ecstasy.
All of the meditations and techniques are honoring and open you to a deeper intimacy and communion within yourself, others and the Divine.
---
~ Awaken your true essence and infinite potential. Enter the dimension of the Sacred.  Experience the grace of embodying Love and union with the Divine.
~ Be supported in a safe circle of men and women 
~ Learn tantra techniques and meditations to practice alone. Healing and empowering yourself as you discover the immense source of love within yourself.
~ Learn partner techniques and meditations that can bring love and transformation to your relationship. Merge sexuality and spirituality through the sacred alchemy of Tantra.
~ Learn to increase your sensitivity to subtle energy,
enliven your chakras and your potential for expansion and ecstasy.
~ Experience your true beauty, power, courage,
vulnerability and passion. Release your hidden splendor.
~ Dance your Inner God and Goddess and Enjoy!
~ Support your own growth and expansion and the awakening of the Sacred Feminine and Masculine so urgently needed now in our world. 
---
Singles and Couples Welcome!
Contribution
Early bird: $325 (11700 THB) before December 21.
$375 (13500 THB) per person
$325 (11700 THB) per person when booking 2
To book the course you will pay a non-refundable deposit (20% of the course price), and the rest should be paid before the course starts.
All bookings at our website are fully refundable in the event of COVID-19 travel restrictions.
– – – – – – – – – – – – – – –
ABOUT THE TEACHER ~
Ma Deva Vibha is working and teaching internationally in the field of Tantra since 1990. She was initiated by the Enlightened Mystic Osho in India in 1979 and lived there, immersing herself totally in the world of meditation, dance and inner transformation, for 25 years. During those years she was also trained and certified through the Academy of Healing Arts, the Institute of Love and Consciousness, the School of Mysticism and the Meditation Academy of the Osho Multiversity with international masters of their fields. Vibha has extensively trained in Tantra and Tantra Sacred Dance with many teachers. Most notably with Ma Ananda Sarita from Tantra Essence where she was a teacher for many years. She offers Tantra Workshops, Tantra Sacred Dance Groups, Retreats and Teacher Trainings, Reiki Energy Healing and Intuitive Readings. She has a University degree in Psychology (USA). Her offerings are in support of men and women honoring themselves and awakening to their true inner beauty and potential.
– – – – – – – – – – – – – – –
*This workshop should be booked at least 1 day in advance.
---
Related Events