Understand the truth of who you really are
Tantra 𝐀𝐰𝐚𝐤𝐞𝐧𝐢𝐧𝐠 𝐜𝐥𝐚𝐬𝐬𝐞𝐬 are a series of lectures where we work on different topics to harmonize practice with theory.
As a Tantra school of self-realization, our main objective is to help our students find authentic and long-lasting happiness, as well as understand the truth of who we really are. As a non-dogmatic school, our aim is to help you develop your own light and wisdom. It´s our understanding that true wisdom comes from within, through our own personal experiences, rather than second-hand wisdom found in books or lectures. Our Tantra Awakening classes lectures are based on experiential exercises, time for reflection, sharing and meditation.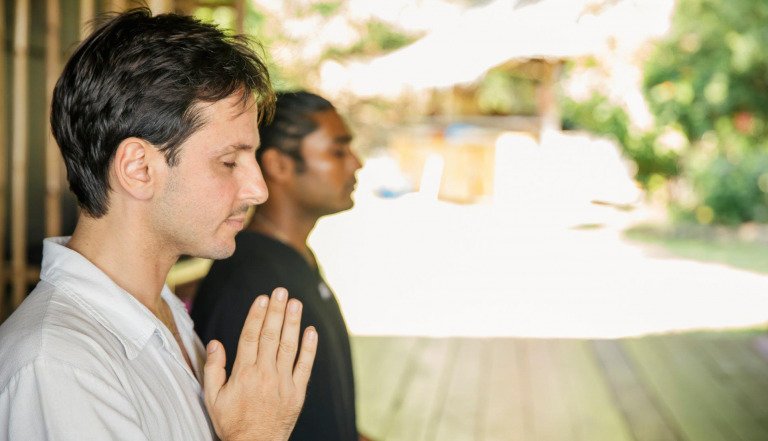 During our Awakening & Healing program (4 weeks) we work on different topics that are aligned with our different classes and activities, such as Tantra practices, self-inquiry etc. 
Tantra Awakening Classes program consists of 8 classes.
✓ 𝐏𝐫𝐨𝐠𝐫𝐚𝐦 𝐈𝐧𝐝𝐮𝐜𝐭𝐢𝐨𝐧 – 𝐓𝐚𝐧𝐭𝐫𝐚 & 𝐩𝐞𝐫𝐬𝐨𝐧𝐚𝐥–𝐠𝐫𝐨𝐰𝐭𝐡
✓ 𝐈𝐧𝐭𝐫𝐨𝐝𝐮𝐜𝐭𝐢𝐨𝐧 𝐭𝐨 𝐓𝐚𝐧𝐭𝐫𝐚 & 𝐈𝐧𝐭𝐢𝐦𝐚𝐜𝐲
✓ 𝐓𝐡𝐞 𝐢𝐧𝐧𝐞𝐫 𝐣𝐨𝐮𝐫𝐧𝐞𝐲 𝐢𝐧 𝐓𝐚𝐧𝐭𝐫𝐚
✓ 𝐓𝐚𝐧𝐭𝐫𝐢𝐜 𝐚𝐩𝐩𝐫𝐨𝐚𝐜𝐡 𝐭𝐨 𝐫𝐨𝐥𝐞𝐬 𝐚𝐧𝐝 𝐫𝐞𝐥𝐚𝐭𝐢𝐨𝐧𝐬𝐡𝐢𝐩𝐬
✓ 𝐇𝐨𝐰 𝐭𝐡𝐞 𝐦𝐢𝐧𝐝 𝐰𝐨𝐫𝐤𝐬
✓ 𝐈𝐧𝐭𝐫𝐨𝐝𝐮𝐜𝐭𝐢𝐨𝐧 𝐭𝐨 𝐓𝐚𝐧𝐭𝐫𝐢𝐜 𝐬𝐞𝐱𝐮𝐚𝐥𝐢𝐭𝐲
✓ 𝐓𝐚𝐧𝐭𝐫𝐚 & 𝐚𝐰𝐚𝐤𝐞𝐧𝐢𝐧𝐠 𝐨𝐟 𝐭𝐡𝐞 𝐡𝐞𝐚𝐫𝐭
✓ 𝐓𝐚𝐧𝐭𝐫𝐚 𝐚𝐬 𝐚 𝐩𝐚𝐭𝐡 𝐭𝐨 𝐚𝐧 𝐚𝐰𝐚𝐤𝐞𝐧𝐢𝐧𝐠 𝐨𝐟 𝐭𝐡𝐞 𝐡𝐞𝐚𝐫𝐭 𝐈𝐈
During our 4 weeks program, you will discover
·       Deconditioning and how to let go of roles towards mastering vulnerability.
·       Why & how to start an inner-jouney of self-discovery,
·       The 5 principles in Tantra
·       The archygram on roles, practical excersise identifing compensations, the 6 virtues
·       Patterns of the mind of specialization, conceptualization, prediction, projection, compensation and reaction
·       The archygram on a healthy sexuality, Tantra and pleasure/desire – the 3 sexualities in Tantra
·       Tantra and the path to awakening of the heart (archygram) – Compassion – Vulnerability – Ted Video Strong of insight
It is important to participate in all classes to ensure maximum benefits. 
More information, times and dates about this and other practices is available by downloading our  calendar of activities