Creative Arts Healing Certification
October 25 @ 10:30 am

-

October 30 @ 6:00 pm

UTC+7

EUR€70.00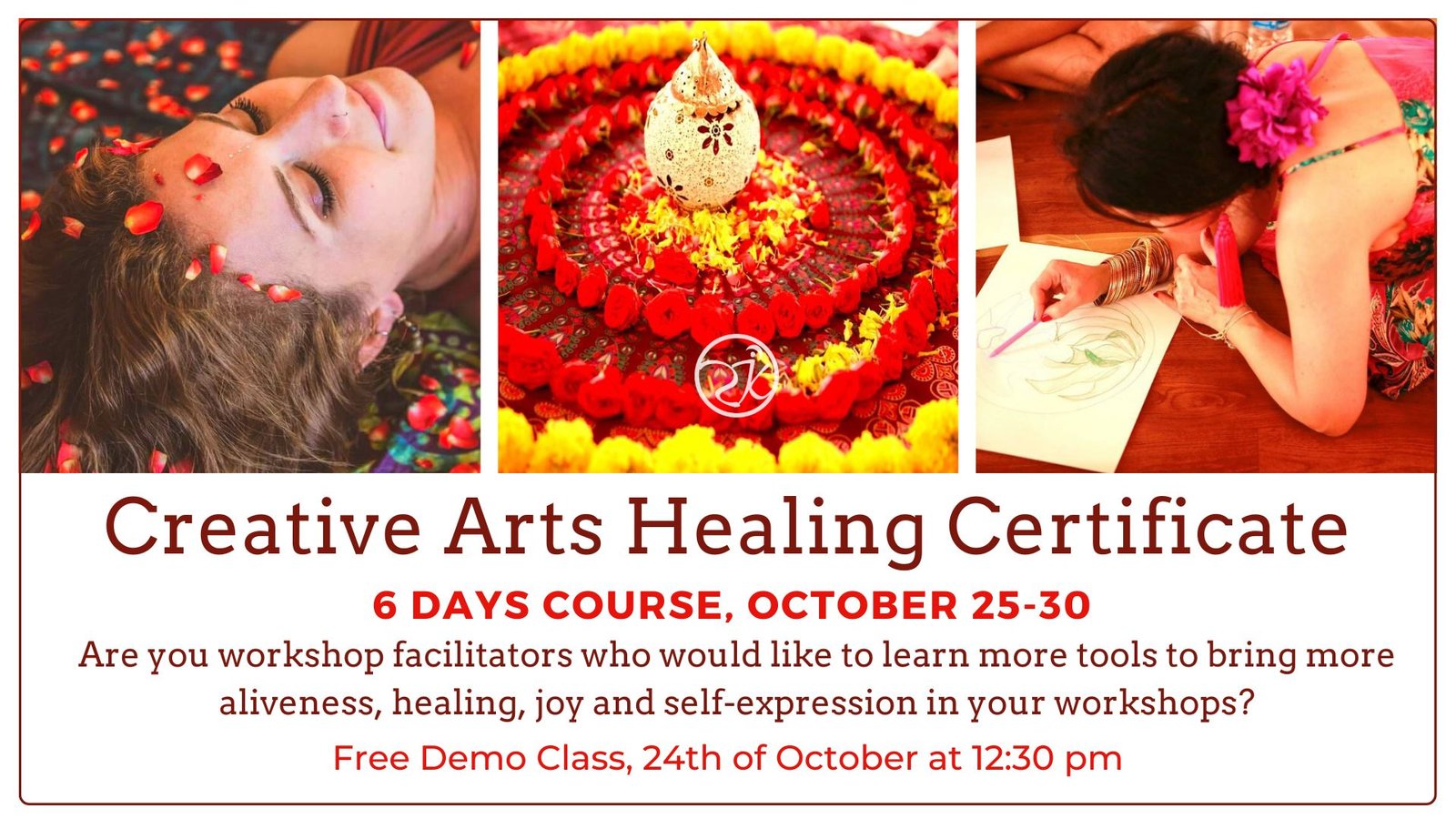 Creative Arts Healing – 6 Days Certificate Course
Free demo class on the 24th of October at 12:30 pm
Every spiritual facilitator can bring lots of Deep psychological healing and spiritual awakening practices using the tools of dance therapy, drama therapy, storytelling and therapy and others. It can be suitable for a yoga teacher, Tantra teacher or any other self-growth or spiritual facilitator. If you wish to just take it for your own personal healing Journey as well, it will benefit you. If you wish to primarily lead workshops only based on Creative Arts and healing, you could do that as well.
"Expressive Art Healing integrates all of the arts in a safe, non-judgmental setting to facilitate personal growth and healing. To use the arts expressively means going into our inner realms to discover feelings and to express them through visual art, movement, sound, writing, or drama. This process fosters release, self-understanding, insight and awakens creativity and transpersonal states of consciousness." Natalie Rogers
Are you a Spiritual/Self Growth workshop facilitators who would like to learn more tools to bring more aliveness, healing, soulfulness, spirit, self-expression, engagement and too much joy in your workshops/trainings?
Are you an individual on a journey of personal self-exploration, healing, awakening or self-transformation?
One of the biggest steps of this journey is integrating all the disowned parts of ourselves.
Our deep Unconscious is where some of our shadows and patterns operate from, but some of our GREATEST TREASURES/GIFTS reside there as well.
"One does not become enlightened by imagining figures of light, but by making the unconscious, conscious." Carl Jung.
However, did you know that our deep Unconscious often speaks the language of symbols and metaphors which often goes beyond words and logic, but can be tapped through the creative arts and embodiment practices, which can bring the most rapid transformation.
"Art speaks where words are unable to explain."

– Pam Holland

"Often the hands will solve a mystery that the intellect has struggled with in vain."― Carl Jung
So one of the most powerful tools we can use to tap into our deep unconscious is Creative arts. In this Training, you will learn the basics of:
📌
Art Therapy (Primary focus on Mandala Art)
📌
Story-telling and Therapy
📌
Combination of all the above
📌
Deep psychological healing and spiritual awakening, journeying with symbols, metaphors and archetypal inquiry in our art.
📌
Unlock the highest POTENTIAL of your SOUL, expressing its true and highest nature as a creator.
📌
Transform into more AUTHENTIC version of your SELF, diving closer to deeper infinite truth.
📌
Connect and heal with other souls mirroring your GREATEST gifts and potential.
📌
Gain self trust, inner security, grounded in your heart's truth.
📌
Bring more aliveness, authenticity, integration, and deeper connectivity in your relationships.
📌
Radical presence, profound liberation, peeling off layers of conditioning.
📌
Integrate shadow and light
📌
Explore, embody and live your purpose.
The goal of life is rapture. Art is the way we experience it.  Joseph Campbell
  —————————————————- 
About the facilitator: Sufiana (India, California)
Sufiana is originally from Bombay and has lived in Los Angeles and San Francisco as well. She leads retreats and workshops in India and internationally for Feminine Spirituality focusing on Women's Empowerment, Feminine Embodiment, and Creative Arts Healing.
She holds a Masters degree in Philosophy, has studied Expressive arts therapy in San Francisco, holds a Post-grad Certificate in Women's studies and is a trained Yoga instructor specializing in Pranayama, Meditation, stress management, trauma healing and chanting, also trained in Reiki and Pranic healing.
In her spare time, she loves to study astrology, dance, work with kids, write Sufi poems, act in theater, sing, paint, photography, travel, etc….
Her path, she says is the path of Unconditional Love and of REVIVING and being of service to the DIVINE FEMININE thereby restoring the balance between Divine Masculine and Divine Feminine energies.
  —————————————————- 
* Investment 12900 THB (355 Euro)
Early bird till the 3rd of October 11900 THb (327 Euro)
20% discount for the volunteers
** This workshop should be booked at least 1 day in advance.
Related Events