YOGA TEACHER TRAINING IN THAILAND, KOH PHANGAN
200 HOURS. NON DOGMATIC, DEEPLY EXPERIENTIAL & HEART BASED YOGA INSTRUCTOR COURSE
Seven reasons why we were awarded best YTTC in Thailand
1) We are a heart school
Samma Karuna school is based on the development of qualities of the heart such as simplicity, love, kindness and compassion, we represent one of the spiritual hearts of South East Asia.



2) We are a long established and internationally recognised school of yoga
You will benefit from an extensively developed and holistic curriculum which is a product of years of dedication and love of yoga. Our Yoga Teacher Training is taught by a team of experienced senior yoga teachers, each of them are specialists in their own area. We offer the services of a team of speciaist teachers rather than using a single teacher for all subjects.



3) We are non-dogmatic
Our school embraces Yoga, Tantra, Taoist and Buddhist values as well as modern scientific research, as part of our Yoga Teacher Training Course in Thailand (YTTC yogaausbildung). A non-dogmatic and open minded approach is a foundational pillar of the school.



4) We offer you a space where you can keep coming back and practicing after your certification
Our Yoga Instructor Course offers a free optional Yoga Internship to teach yoga at our school, for graduates who would like to deepen their teaching skills. YTTC graduates also gain lifetime access to all regular yoga classes in the school.*



5) We provide an intensive Yoga Teacher Training Course (Yoga TTC) in a fun, relaxing environment for optimum learning.
We believe that life is for learning but also for celebrating, therefore in Samma Karuna we provide a fun, relaxing environment where learning and celebration go hand-in-hand.



6) We are also a community and a family
Samma Karuna is not just a school, it is also a community of friends and family who practice a conscious lifestyle and take care of each other. You can volunteer with us and receive a 20% discount on the course price.



7) We have a beautiful space with most of our halls located by the beach
We have a beautiful yoga campus of 7000m2 by the beach for our Yoga Instructor Course (Yoga TTC), with onsite accommodation and facilities for your convenience during your yoga teacher training course (Yoga TTC). Our campus and retreat center is located in Koh Phangan, the largest yoga hub of South East Asia and one of the most beautiful islands of Thailand.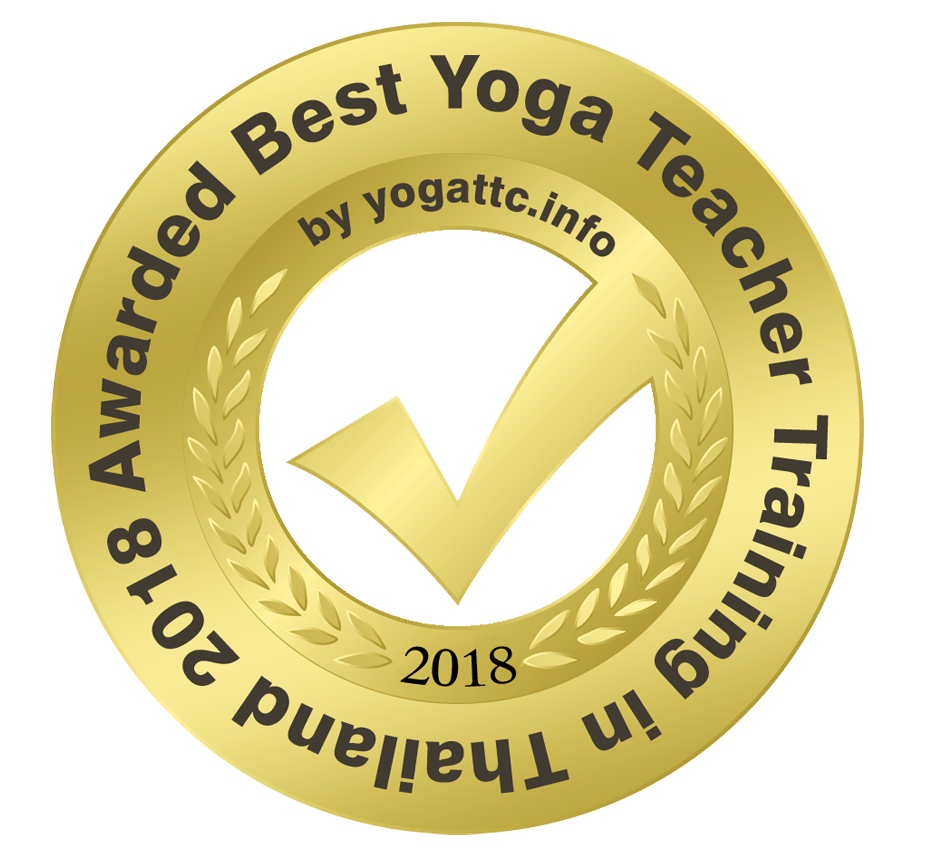 Subjects covered:
Our program covers all Yoga Alliance (200 hours) requirements. It is an exceptional program of yoga techniques and practices that far exceeds the basic requirements of the Yoga Alliance to give you a high quality training experience.
Asana Practice & Theory in Hatha, Vinyasa and Yin Yoga
Vipassana/Anapana Meditation
Active Meditations & OSHO Active Meditation Practice
Clasic Pranayama & Breathwork for Healing
Compassionate Sharing
Yoga & Self Development
Yogi & Taoist Cultivating, Circulating & Sublimating of Energy
Anatomy and Physiology
The 6 Yogic Purification Techniques (Shatkarma)
The 8 Limbs of Yoga of Patanjali
Yamas & Niyamas
Overview of Yoga History
Basics of Sanskrit
Introduction to Ayurveda
Energy Body Structure
Tantra & Yoga
Shankhaprakshalana Practice (Optional)
Truth and Correct Understanding in Yoga (How to Interpret the Sutras)
Suddarshan Kriya Practice
Mantras & Mudras
The Art of Teaching – from the Mind-Intellectual to the Heart-Intuitive
Yoga & Business
Yoga & Nutrition

** A free teaching internship at the school is offered to all YTTC graduates.
What will your day consist of?
07.15 to 08.15: Pranayama, Mudras or Meditation
08.30 to 10.30: Asana Practice
11.00 to 12.30: Lunch Break
12.30 to 13.30: Meditation, Yoga Nidra or Yoga Theory
13.40 to 14.40: Yoga Philosophy, Patanjali's Yoga Sutras or Anatomy
14.40 to 16.00 Tea Break
16.00 to 17.30: Asana Practice
18.00 to 19.00: Art of Teaching, Physiology or Adjustment & Alignment

Sundays are a day off.
The time schedule will remain the same throughout the 4 weeks, but the subjects will vary according to the program.
The application requirements for our course:
The pre-requisites to enroll in our Hatha Yoga Teacher Training, 200 Hour Course (Yoga TTC), include previous experience in yoga practice, an open mind and the ability to meditate (you will be asked to meditate for at least one hour per day), a commitment to learning and the motivation to be certified as a yoga teacher (even if you don't have plans to teach).
A high level of self-discipline is required during the yoga teacher training course as it is physically, mentally and spiritually demanding. You should also be comfortable with respectful body contact, as some exercises are done in pairs and hugs are a common practice around the school.
You must be able to read, speak, and comprehend English with a satisfactory degree of fluency.
In order to be considered for the yoga instructor course you need to pay an online deposit of USD 258 and complete the application form that will be forwarded to you by email.
If you are not accepted for the course a full refund of the deposit will be issued.
Full payment in cash for the balance of the tuition will be required upon your arrival.
For any enquiries, please email us at yogattc@sammakaruna.org
Volunteer with us and receive a 20% discount on your course
By volunteering with us for 4 hours a day, you can practice Karma Yoga and selflessly give of yourself for the benefit of others.
Volunteering is typically done at the school or in nearby areas, such as the Koh Phangan Organic Farm or Phangan Animal Care (PACS). Other volunteering activities include beach cleaning, free hugs campaigns or helping at the school in activities such as: assisting in classes, gardening, distributing flyers, etc.
Volunteers are entitled to a 20% discount on the regular fee of our Yoga Teacher Training course.
For more information about volunteering during your Yoga Teacher Training Course (YTTC) in Thailand and how to apply, click here .
Accommodation
We offer a variety of accommodation ranging from shared dorm accomodation to private bungalows with amenities and a sea view. Accommodation included in your course fee is TYPE D. You may choose to upgrade your accommodation after you pay your deposit for the course. Accommodation is offered inside our campus or at our partner resort next door.
Types of Accommodation
TYPE D: Single bed in a 4 beds mixed gender dorm with A/C (included in your course fee).
TYPE C: Standard bungalow with A/C shared with another student (+USD 350 extra).
TYPE B: Standard private bungalow with A/C (+USD 595 extra).
TYPE A: Comfortable and spacious bungalow with more amenities and a sea view (+USD 850 extra).
More information and photographs about accommodation can be viewed by clicking
Here
Package Highlights
24 Days (200 hours) of instruction: Yoga Teacher Training Course (YTTC)
An exceptional and high quality program of training
Healthy yogi food included (vegan buffet lunch at an in-house restaurant)
28 days of accommodation
Certified Yoga Alliance Diploma
Optional Internship at the school for graduate students
Free access to yoga classes and activities of our Awakening & Healing Program for a lifetime*
Cost: 2694 US Dollars
(With the volunteering discount 2155 US Dollars)
Status:
JULY 2019: (Places left. Volunteering options available)
SEPTEMBER 2019: (Places left. Volunteering options available)
NOVEMBER 2019: (Places left. Volunteering options available)
JANUARY 2020: (Places left. Volunteering is full)
---
Course Booking:
Book your place on the next Yoga Teacher Training Course (YTTC) by choosing your prefered date and clicking the section below.
The program includes: Yoga Teacher Training Course (YTTC) - 200 hours of training over 4 weeks, food (vegan buffet lunch) and accommodation.
Cost: 2694 US Dollars (approximately 85,500 Baht)
(with volunteering 2155 US Dollars)